Hydrophilic Facial Cleanser
This unique hydrophilic (water loving) cleanser creates a skin friendly cleansing system which ensures gentle yet thoroughly removes make-up while leaving no oily residue on skin. This cleanser is formulated with pure botanical ingredients and is suitable for all skin types, even for the most sensitive skin. [/column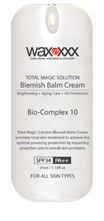 Bio-Complex 10 Tinted Moisturizer.
WaxXXX Bio-Complex 10 Tinted Moisturizer. is a 4-in-1 daily solution for a "look good" and "anti-aging" concealer with sun protection factor.
This cream contains plant extracts effective for:
Lightening of skin discolouration
Anti-wrinkle with moisturizing extracts
SPF34/PA++
An effective foundation that blends into all skin tones.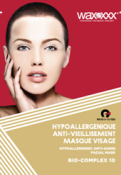 Hypoallergenic Anti-Aging Facial Mask
This Anti-aging face mask is formulated with 100% natural plant extracts found in Korea. The mask is designed to rejuvenate and regenerate the natural collagen in the skin to restore the youthful complexion. It soothes, nourishes and hydrates the skin. It is suitable for all skin types. *Parabens & Artificial Fragrance Free.